Triton Knoll is delighted to be supporting Humber University Technical College student open day on Saturday, 18 March, and to demonstrate our continued support through the sponsorship of its Electrical Workshop.
So far, in our first six months, we've set the students a circuit-maker challenge to help them begin to understand some of the challenges the sector faces day to day, and we were delighted with the results. Looking ahead, we will be setting more challenging tasks, so that students have a chance to learn more about this exciting sector, and which offers so many opportunities for the future.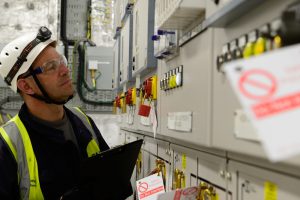 Renewable energy is a significant industrial growth sector in the UK, producing critical energy infrastructure and with the potential to unlock extensive opportunities for long term, high skilled engineering jobs in both construction and operation of facilities across the sector. As we develop Triton Knoll towards construction and operation, we expect both the project and our contractors to support lots of high skilled, long term jobs locally, and would hope to be able to draw on the fantastic skills already available and being developed in the region, through the likes of the Humber UTC, apprenticeships, and other skills growth areas.
We're delighted to be supporting the open weekend and will be there in support on Saturday, 18 March, between 10am and 2pm. So if you're visiting, come and say hello to Triton Knoll and find out more about our exciting project.