Triton Knoll is an 857MW 'Round 2' offshore wind farm, owned by RWE (59%), J-Power (24%) and Kansai Electric Power (16%). RWE is constructing the project and will operate on behalf of the partnership.
Project statistics
| | |
| --- | --- |
| Installed capacity | 857 MW |
| No. of turbines | 90 x MHI Vestas v164-9.5 MW turbines |
| Approximate tip height of V164-9.5 MW turbine | 187 m (NB; consent granted for maximum installed blade tip height up to 220m) |
| Potential no. of average homes supplied annually |  At least 800,000 average UK households1 |
Location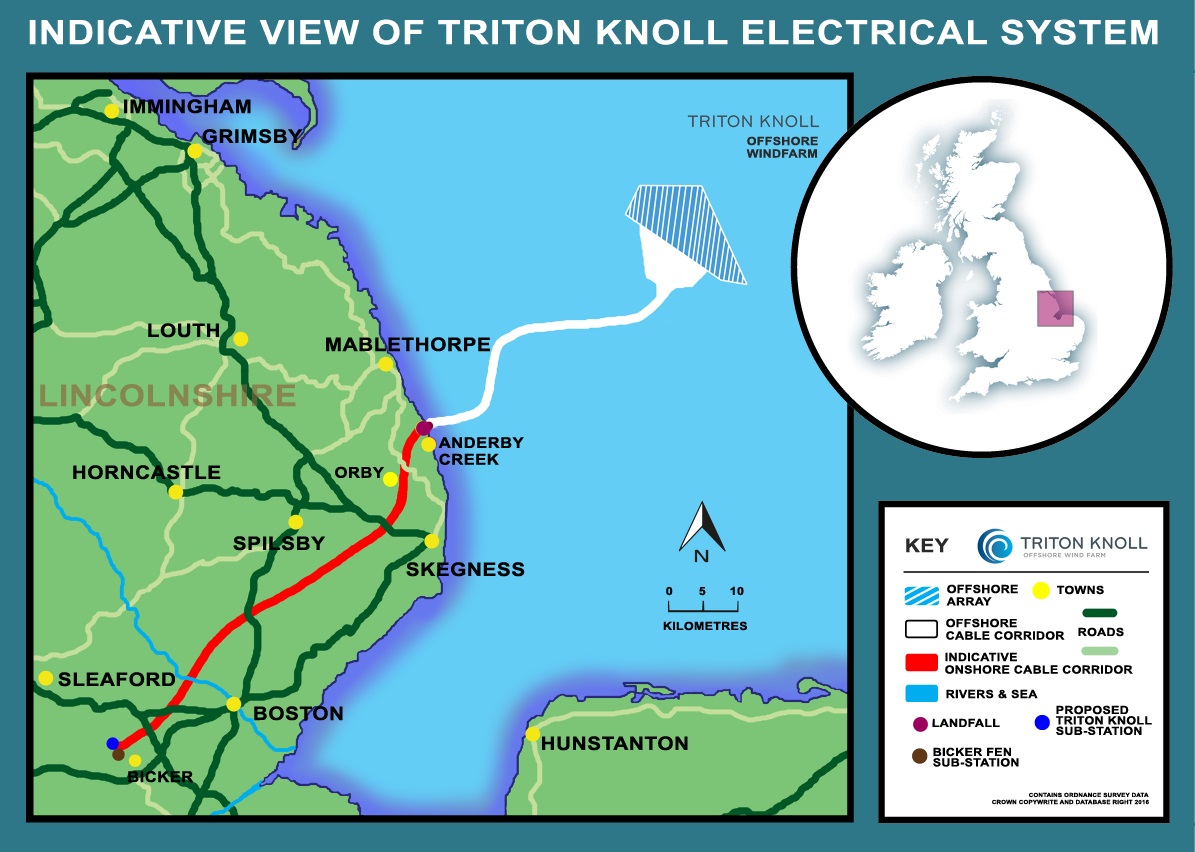 Triton Knoll is within the Greater Wash strategic area, located off the east coast of England, approximately 20 miles off the coast of Lincolnshire and 28 miles from the coast of north Norfolk. This is one of three 'Round Two' strategic areas around the coast of Great Britain, which were released for offshore wind development by The Crown Estate and the Government in 2003.
Offshore and onshore electrical infrastructure connects the wind farm to the electricity network. Sub-sea export cables from the offshore wind farm make landfall just north of Anderby Creek, with the power entering the electricity network at the National Grid Bicker Fen Substation, near Boston, via a network of underground cabling and new onshore substation.
Project Background
At the time of the Round 2 tender process, RWE Renewables (at the time called RWE npower renewables) was awarded a license to develop an offshore wind farm called Triton Knoll up to a maximum of 1,200 megawatts (MW). Triton Knoll was consented in two separate applications (the Offshore Array and the Electrical System), but is being constructed and operated as one project. Triton Knoll was successfully awarded a Contract for Difference by the Department for Business, Energy & Industrial Strategy, in September 2017 and it achieved Financial Close in August 2018. Onshore construction commenced in September 2018 was successfully completed in October 2021. Landscaping works are ongoing at the Onshore Substation and are due to complete in early 2022. Offshore construction commenced in January 2020 and the final wind turbine was successfully installed in September 2021. Triton Knoll is expected to be fully operational in 2022.
Triton Knoll consists of two Development Consent Orders detailed below:
The Triton Knoll Electrical System includes the onshore substation, underground cables and the offshore export cables. An application for a Development Consent Order for the electrical system was submitted and accepted by the Planning Inspectorate in 2015. Following a full examination, consent for the electrical system was granted on 3 September 2016.
The Triton Knoll Offshore Array includes the 90 x wind turbines, meteorological masts, offshore substations and the cables that link the wind turbines to the offshore substations. The Secretary of State for Energy and Climate Change granted consent for the offshore array on 11 July 2013.
Decommisioning
Consultation on a draft Decommissioning Programme ended on 25 January 2019, with all comments received being reviewed to support the final decommissioning plan. An updated Decommissioning Programme will submitted to the government's Department for Business, Energy and Industrial Strategy and, once approved, will be available to view on this page.