Onshore survey works are continuing on behalf of Triton Knoll, with Lincoln-based Allen Archaeology undertaking a series of further geoarchaeological investigations over the course of this week and next.
The surveys will examine specific sites at locations along the onshore route of the Triton Knoll onshore cable corridor, looking for buried materials or deposits which may be of archaeological and environmental significance. Landowners have been fully engaged throughout the survey works, which we expect will have a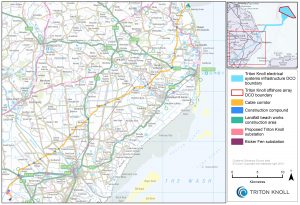 very limited impact on the surrounding environment.
Surveys will involve small teams walking the route and using a hand-auger at specific locations to hand-dig small sample areas. Depending on findings, some additional survey work may follow at a smaller number of specific locations, and using additional sampling equipment and machinery. The survey results will help Triton Knoll finalise its designs for the best approach to delivering the onshore cabling works.
In addition to these surveys, Allen Archaeology is continuing to undertake a programme of archaeological trial trenching along the route of the onshore cable route and at the onshore substation site.
We will continue to keep you up to date with further works, if required, via this website so please keep watch on these pages for more news.