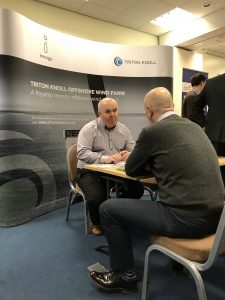 • Over 100 new businesses have since joined the project's supplier database
• Key Triton Knoll contractors now considering opportunities with local firms.
LINCOLNSHIRE businesses have been given an important insight into opportunities with Triton Knoll Offshore Wind Farm and its contractors, thanks to the project's first 'Meet The Buyer' event.
Organised and delivered by Lincolnshire Growth Hub, the initial event was hosted at Boston College and focused on the innogy-owned project's almost 60kms onshore Electrical System.
The installation of the underground cable and the substation construction present one of the most significant opportunities for local companies to get involved with the project.
Lincolnshire County Council Cllr Mark Storer opened the event, alongside Triton Knoll project director Julian Garnsey, who said over 100 new businesses have since been added to the project's Supplier database and will now be receiving regular information and updates on opportunities emerging within the project.
Julian said: "This was an excellent first event which clearly demonstrates the willingness of both Triton Knoll and our key suppliers to put local suppliers at the forefront of opportunities with the project. It was a very well organised event by the Lincolnshire Growth Hub, and we were really encouraged by the level of interest from the local supply chain and the level of enthusiasm and interest from them to engage with the project."
Procurement leads from Triton Knoll and its primary contractors Siemens Transmission and Distribution Limited (STDL), responsible for the onshore substation, and J Murphy & Sons Ltd, responsible for the onshore cable, conducted 1-2-1 interviews with suppliers regarding potential opportunities.
STDL's Jane Duckworth, Senior Project Procurement Manager, said: "We've been contacted by lots of suppliers since the event at the college, all with positive feedback and showing a real interest in the project. It was a really worthwhile venture and I was impressed with the engagement from everyone involved on the day."
Murphy senior subcontract buyer Lukasz Olszewski said: "It was a very encouraging event and we are now exploring a number of leads with local companies to support the onshore works at Triton Knoll. We are looking forward to engaging more with local suppliers in the future."
Other regional supplier events are now being planned by Triton Knoll and its contractors which, together with regular planned website updates and the project's suppliers' E-newsletter, will aim to help local firms stay up to speed with news and opportunities across all aspects of the project, both onshore and offshore.
Triton Knoll is an innogy-owned offshore wind farm, and has a planned installed capacity of 860MW(1) capable of supplying the equivalent of over 800,000 UK households per year, with renewable electricity. The project was awarded a Contract For Difference (2) in September 2017, and expects to trigger a capital expenditure investment of around £2billion into much needed UK energy infrastructure.
For more information about the works, please visit: www.tritonknoll.co.uk/triton-knoll-ecological-preconstruct-works/
Ends
Media Contact
Mark Fleming,
Triton Knoll Communications Manager
M: 07825 608096
E: mark.fleming@innogy.co.uk
Editors notes
(1) Energy Generation
It is estimated that the average annual generation expected at the site could be equivalent to the approximate domestic needs of an expected minimum of 800,000 average UK households.
Energy predicted to be generated by the proposal is derived using wind speeds monitored in the local area and correlated with long term reference data. The energy capture predicted and hence derived homes equivalent figure may change as further data are gathered.
Equivalent homes supplied is based on an annual electricity consumption per home of 4100 kWh. This figure is supported by recent domestic electricity consumption data available from The Digest of UK Energy Statistics and household figures from the UK National Statistics Authority."
(2) CFD award and consents
Triton Knoll was awarded a Contract for Difference on Monday 11 September 2017.
In July 2013, the Secretary of State granted consent for the offshore array element of the project (turbines, offshore substations, inter array cables etc). In September 2016, the Secretary of State also granted a Development Consent Order (DCO) for the Electrical System (ES) which connects the power generated from the offshore array into the national grid onshore. The ES consent includes the offshore export cable, the onshore underground export cable, an intermediate electrical compound at Orby, and a new substation at Bicker Fen, ultimately ensuring the delivery of energy potentially into an anticipated 800,000 UK homes once the wind farm is fully operational.