Appointment aligns with Triton Knoll's low cost approach, and is a clear sign of commitment to UK firms
Powerhouse Siemens' appointment expected to drive significant engagement of UK supply chain
Manchester-based offshore grid connections specialists will design electrical system, including supply and install of onshore and offshore substation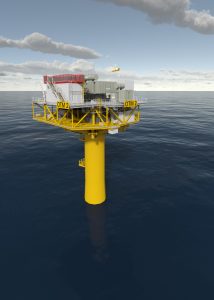 Triton Knoll Offshore Wind Farm has today unveiled UK based Siemens Transmission and Distribution Ltd as its first major UK preferred supplier to engineer, procure, and construct both the onshore and offshore substations.
The announcement follows quickly after Triton Knoll's success in the UK Government's latest Contract for Difference(2) (CFD) auction, which marked the wind farm as one of the UK's best 'low cost' renewable energy projects.
Once finalised, the contract will require construction of two offshore substation platforms and the onshore substation. Siemens will also design and deliver a 400kV electrical connection into the existing National Grid substation at Bicker Fen, to connect power from the wind farm into the national grid.
Siemens will deliver the contract out of its Manchester-base, where over 200 staff are already employed in supporting the design and delivery of key renewable energy infrastructure in line with UK industrial and energy strategies. A latest economic impact study shows that Triton Knoll has the potential to support over 3,000 UK jobs during construction alone.
It is anticipated that the offshore substation platforms could be fabricated within the UK, with Siemens looking to strengthen its UK supply chain links when sub-contracting elements of offshore fabrication and civil construction relating to onshore and offshore.
While under contract as preferred supplier at this stage, the wind farm team will now work with Siemens to help unlock opportunities for regional and national suppliers, as it gears up for the start of construction later in 2018.
James Cotter, Project Director, said: "I'm really pleased to have such an experienced company on board. Siemens' involvement represents a very real opportunity for competitive UK companies to get involved with our project and benefit from our investments.
"Siemens has a great reputation for working with local communities. As the onshore element of the project moves into construction in 2018, Siemens will work right at the heart of the community and will become regular visitors to our Local Liaison Committee meetings.
"As the project moves forward, we will be working with Siemens to push the boundaries of technology as they complete detailed design works and further streamline the project, helping us to deliver value to consumers through the lower cost of energy."
Siemens' Director of AC Grid Access, Mike Grainger added, "Siemens is proud to be a part of the Triton Knoll team.  We look forward to working together to deliver a solution which reflects the continuing  innovation and quality expected from Siemens and which builds upon our track record of delivering seven Grid Connections in the UK with over 3GW of offshore wind connected power."
Triton Knoll is a circa 860MW (4) East Coast offshore wind farm project, and expects to trigger a capital expenditure investment of around £2billion into much needed UK energy infrastructure. This will enable the delivery of some of the lowest cost energy generation for UK consumers. The CfD winning project is being developed as a joint venture between innogy and Statkraft, with innogy managing the project on behalf of the partnership.
The project is now progressing towards a financial investment decision likely in 2018 with full onshore construction starting shortly after, and offshore construction starting in 2020. First energy generation could be as early as Q1 2021, with the project expecting to begin commissioning in 2021.
Preparations for the start of Triton Knoll's onshore work are well underway regionally, and a full programme of onshore survey works is being completed, while some key early works are being prepared to pave the way for construction later.