Fund Proposals for consultation
£40,000 each year project is operational  – Index linked each year in line with inflation
One fund,  same themes, same simple application process. Two decision making panels, with local representatives making decisions for their own area. Flexible to meet changing needs of local communities in the future with fund structure reviewed every three  years.
£10,000 per year to landfall area of benefit – buffer of 3km around the landfall location at Anderby Creek.
£30,000 per year to substation area of benefit – buffer of 5km around the substation location near Bicker Fen.
Map of fund eligibility areas
Click on the map below to enlarge it and view more detail of the eligibility areas.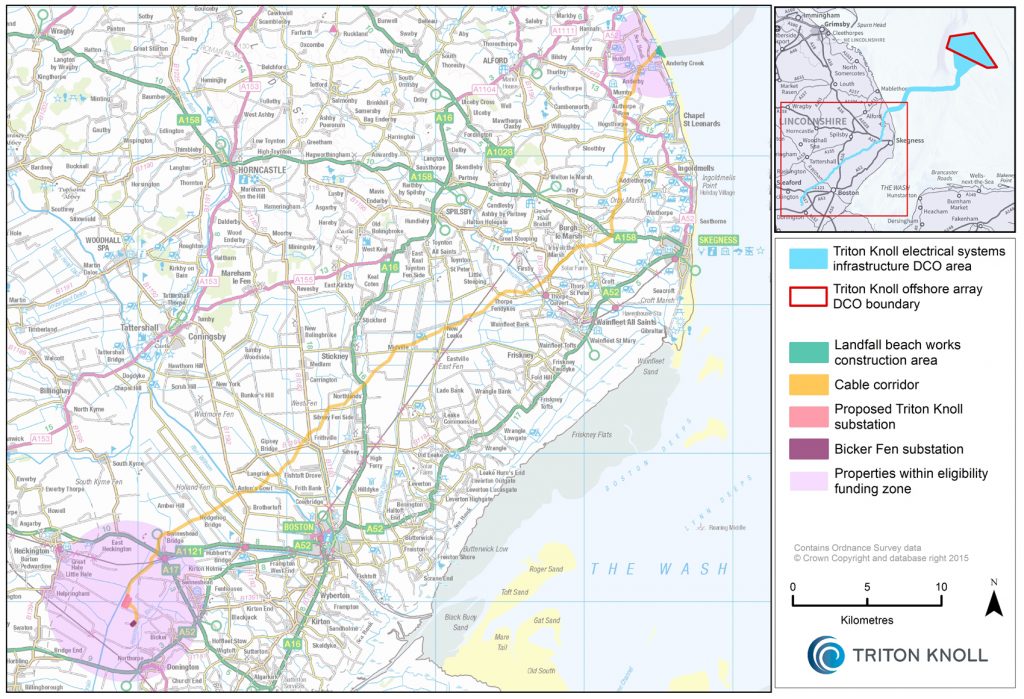 Super easy access to "micro grants" for applications under £250
Standard "Community Grants" of £250 to £5,000 – available under usual circumstances
Special "High Impact Grants" of up to £10,000 – considered where exceptional need and impact
Funding Themes
Projects than enhance quality of life for local people;
Projects that contribute to vibrant, healthy, successful and sustainable communities;
Projects that promote community spirit and encourage community activity.
Funding Rounds – two per year
Fund Administrator – The Lincolnshire Community Foundation. An experienced, independent grant-making trust. Charity Commission registered (registration number 1092328). Providing good governance, with fair and transparent grant making process.
Administration fees – to be paid in addition to the fund.
Decision-making panel – for each area of benefit, including Parish Council and local resident representatives
Publication of awards – via  Triton Knoll website www.tritonknoll.co.uk
Annual report – produced by fund administrator.
The Questionnaire
Please answer the following questions, using the information provided in the previous section (above)