Fund Proposals for consultation
£500,000 over two year construction period
Area of benefit – buffer of 3km around the landfall location at Anderby Creek , a 5km buffer around the substation location near Bicker Fen and a 1km buffer around the onshore cable route.
Map of fund eligibility areas
Click on the map below to enlarge it and view more detail of the eligibility areas.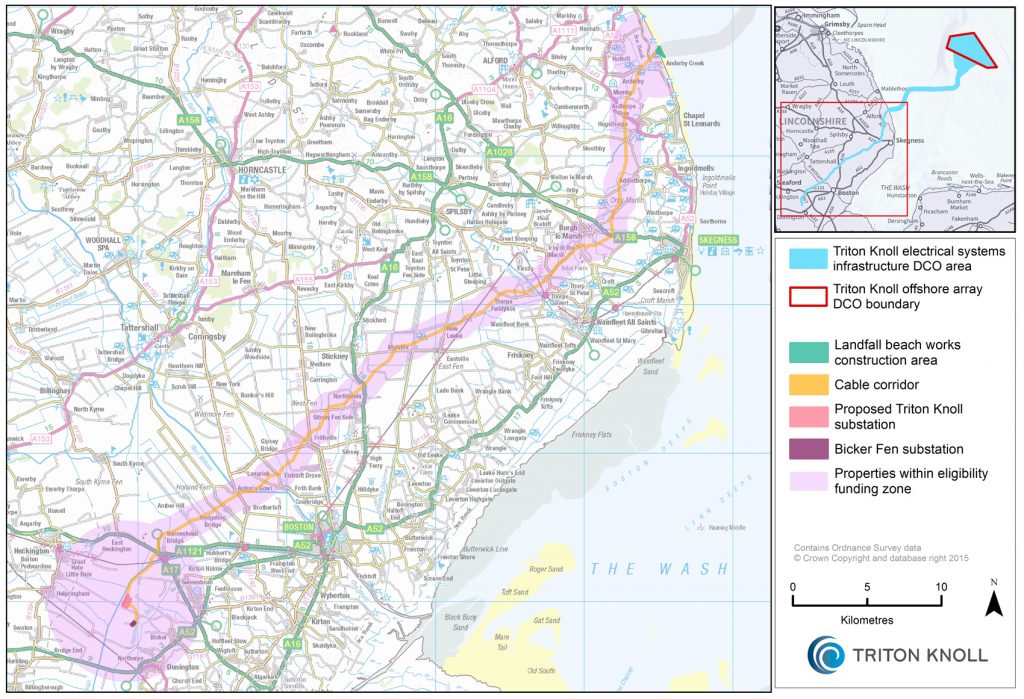 Eligible projects
"Small Projects" (of £250 up to £2,500)
"Large Projects" (of £2,501 up to £10,000)
Large projects could be supported over more than one year (maximum £10,000 per year)
Large projects could be supported in part of full interest free loans. This could help organisations grow to become more sustainable as well as recycling some of the funds so that even more projects could benefit.
Funding Themes
Projects that improve opportunities for and / or encourage tourism;
Projects than enhance quality of life for local people;
Projects that contribute to vibrant, healthy, successful and sustainable communities;
Projects that promote community spirit and encourage community activity.
Funding Rounds
Two per year, per category (four in total)
Fund Administrator – The Lincolnshire Community Foundation. An experienced, independent grant-making trust. Charity Commission registered (registration number 1092328). Providing good governance, and a fair and transparent grant-making process.
Administration fees – to be paid in addition to the fund.
Decision making panel – participants recruited based on experience, knowledge and skills, rather that area represented. Panel places will be identified by the area of the community that individuals represent e.g. voluntary sector, business, education, environment, younger people, older people etc.
Publication of awards – via this Triton Knoll website.
Annual report – produced by fund administrator.
The Questionnaire
Please answer the following questions, using the information provided in the previous section (above)