UK firm lined-up to engineer almost 60 kms of underground cable installation
Onshore works would provide project's biggest UK supplier opportunity to date
Murphy to undertake the largest number of horizontal directional drills ever undertaken on a single infrastructure project.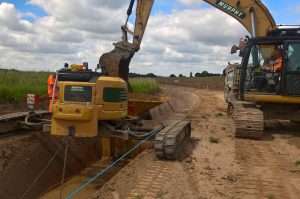 Triton Knoll today confirmed UK firm J Murphy & Sons Limited (Murphy) as its preferred supplier to install the entire 60km underground cable route, while providing the wind farm's best opportunities to date for local suppliers.
As preferred supplier, Kentish Town based Murphy will design and install the project's critical onshore cable circuits, which will stretch from the point of landfall near Anderby Creek, to a new-build substation at Bicker Fen.
Triton Knoll is an innogy-owned(1) offshore wind farm, located 32kms off the Lincolnshire coast. It has a planned installed capacity of 860MW(2), capable of supplying the equivalent of over 800,000 UK households per year, with renewable electricity.
The installation will present one of the biggest engineering challenges of its kind, with almost 60kms of underground cable to install, and over 300 obstacles to be crossed by individual horizontal direction drills – three times more than what's believed to be the previous UK record for an infrastructure project.(3)
Triton Knoll Project Director James Cotter said: "This will be an unprecedented engineering challenge, where Triton Knoll and Murphy are pushing the boundaries of innovation and technology to deliver one of the longest ever underground cable installations linked to an offshore wind farm.
"Our arrangement with Murphy really demonstrates how we are working towards delivering our target of at least 50% UK content across the lifecycle of the project. We anticipate important opportunities for local businesses both in terms of traditional sub-contracted works and wider support services.  We are determined that local companies will have visibility of contracts and the opportunity to bid for work on our project and we believe that local companies can be successful.  In this way, we hope to play a role in the retention of local jobs and skills and see investment flowing into the local communities.
"As this contract develops, Murphy will become increasingly visible in the community, working with local people, landowners and businesses to ensure everyone remains up to speed with the works being carried out. They will be joining our Local Liaison Committee meetings and will be supporting our forthcoming supply chain events in the months to come.
"We are incredibly pleased to have a business with such experience and presence on board, and welcome them to the Triton Knoll team."
In preparation for the works, Murphy will set up a new project office close to the cable route, which is eventually likely to house over 100 UK staff. In addition, the civil engineering and specialist excavation and drilling works required will attract a large UK-based workforce for the duration of the installation.
Murphy is a well-established construction and engineering company with more than 60 years' experience in delivering large infrastructure projects, with expertise in onshore and offshore cable laying, horizontal directional drilling, tunnelling, cable systems and civils route design.
Murphy CEO Steve Hollingshead said: "This is one of the biggest power projects that Murphy will have worked on and it's a real marker of the upward direction in which our business is going, as we continue to develop and grow. To have been chosen as preferred supplier for such a large and prestigious project shows that we are trusted by innovative companies like innogy to deliver world-class infrastructure projects that will improve people's lives.
"It's an incredibly exciting and complex project, and we're looking forward to working closely with innogy to provide first-rate results."
Triton Knoll was awarded a Contract For Difference (4) in September 2017, and expects to trigger a capital expenditure investment of around £2billion into much needed UK energy infrastructure. This will enable the delivery of some of the lowest cost energy generation for UK consumers.
The project is now progressing towards a financial investment decision likely in 2018 with full onshore construction starting shortly after, and offshore construction starting in 2020. First energy generation could be as early as mid-Q1 2021, with the project expecting to begin commissioning in 2021.
For more information about the project, please visit: www.tritonknoll.co.uk
Media Contacts
Editors notes
A Snapshot of Triton Knoll statistics:
The project will be located approximately 32km off the Lincolnshire coast and 50km off the coast of North Norfolk. It has consent to install almost 60km of onshore underground export cable, and a new substation near Bicker Fen.
Likely overall capital expenditure investment in much needed UK energy infrastructure – around £2billion
Likely overall UK content – at least 50% (full project lifecycle cost)
Potential jobs supported – up to 3000 UK Jobs during construction
of turbines – 90 MHI Vestas V164-9.5 MW
Installed generating capacity – circa 860MW
Homes equivalent – an expected minimum of 800,000
Size of turbines (height) – Approximate tip height of V164-9.5 MW turbine – 187m
Distance Offshore – 32 km off the coast of Lincolnshire and almost 50km from the coast of North Norfolk
Point of Landfall – north of Anderby Creek
Connection point to national grid network – existing national grid Bicker Fen substation
Length of cable route (onshore & offshore) – onshore corridor = 57km, offshore corridor = 49km (combined distance is approx. the same as London to Southampton.)
(1) Ownership
Triton Knoll is 100% owned by Innogy Renewables UK Ltd (innogy).
(2) Energy Generation
It is estimated that the average annual generation expected at the site could be equivalent to the approximate domestic needs of an expected minimum of 800,000 average UK households.
Energy predicted to be generated by the proposal is derived using wind speeds monitored in the local area and correlated with long term reference data. The energy capture predicted and hence derived homes equivalent figure may change as further data are gathered.
Equivalent homes supplied is based on an annual electricity consumption per home of 4100 kWh. This figure is supported by recent domestic electricity consumption data available from The Digest of UK Energy Statistics and household figures from the UK National Statistics Authority."
(3) Onshore cable installation
The challenge of installing a 60km onshore cable infrastructure has been described as "unprecedented in the UK" not least of all due to the extent of the engineering required to complete it.
Engineering highlights:
Over 300 separate horizontal direction drills – the most ever carried out in the UK to date is 100 during the widening of the M25.
The 60km cable installation will be delivered by two separate teams (a northern section and a southern section.)
(4) CFD award and consents
Triton Knoll was awarded a Contract for Difference on Monday 11 September 2017.
In July 2013, the Secretary of State granted consent for the offshore array element of the project (turbines, offshore substations, inter array cables etc). In September 2016, the Secretary of State also granted a Development Consent Order (DCO) for the Electrical System (ES) which connects the power generated from the offshore array into the national grid onshore. The ES consent includes the offshore export cable, the onshore underground export cable, an intermediate electrical compound at Orby, and a new substation at Bicker Fen, ultimately ensuring the delivery of energy potentially into an anticipated 800,000 UK homes once the wind farm is fully operational.
ADDITIONAL INFORMATION
About innogy SE
innogy SE is Germany's leading energy company, with revenue of around €44 billion (2016), more than 40,000 employees and activities in 16 countries across Europe. With its three business segments Grid & Infrastructure, Retail and Renewables, innogy addresses the requirements of a modern, decarbonised, decentralised and digital energy world. Its activities focus on its
23 million customers, and on offering them innovative and sustainable products and services which enable them to use energy more efficiently and improve their quality of life. The key markets are Germany, the United Kingdom, the Netherlands and Belgium, as well as several countries in Central Eastern and South Eastern Europe, especially the Czech Republic, Hungary and Poland. In renewable power generation, the company is also active in other regions, e.g. Spain, Italy and the MENA region (Middle East, North Africa), with a total capacity of 3.7 gigawatts. As a leader of innovation in future-oriented fields like eMobility, we are represented in the international hot-spots of the technology industry such as Silicon Valley, Tel Aviv, London and Berlin. We combine the extensive expertise of our energy technicians and engineers with digital technology partners, from start-ups to major corporates. With planned capital investments of around €6.5- €7.0 billion (2017-2019), we are building the power market of the future and driving forward the transformation of the energy market.
innogy is colourful, flexible and full of energy – let's innogize!
Renewables
With an installed capacity of more than 900 megawatts in offshore wind and with over 1900 megawatts in onshore wind, innogy is one of the major operators in Europe. We plan, build and operate plants to generate power and extract energy from renewable sources. Our aim is to take the expansion of renewables in Europe further in the short term, both on our own and working with partners. We believe that working together in this way is the key to making the energy transition a success. Currently, we are particularly strongly represented in our home market, Germany, followed by the United Kingdom, Spain, the Netherlands and Poland. At the moment we are focusing on continuing to expand our activities in onshore and offshore wind power. We are also looking at entering new markets and technologies, such as large-scale photovoltaic plants.
Further information: www.innogy.com