RELEASE date: Monday 12 December 2016
Triton Knoll puts communities and businesses at heart of new website
Triton Knoll Offshore Wind Farm is now officially online with a brand new website designed to highlight project news and information for communities, while showcasing opportunities for the region's businesses.
www.tritonknoll.co.uk was designed and built by Spalding based web company DrivebyWebsites and is now the central point of information for the up to 900MW(1) renewable energy project.
Project director James Cotter said:  "We're really pleased to be able to launch our new website. It's highly informative, easy to use and simple to navigate whether you're using a laptop, mobile phone or tablet – we believe that's really important for anyone online who is interested in our project.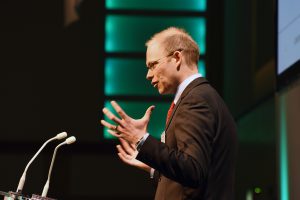 "The site is designed to expand with the project and to support the changing needs of the project and our neighbouring communities. We'll be adding to the site often, and we would encourage all of our communities and businesses to come and take a look, and stay up to date with what's happening at our exciting Triton Knoll windfarm."
The website has been structured to support with the project's key priorities, and focuses on:
Latest news and information
About the project
Supply Chain
Jobs, Skills and Learning
Communities, and
Staying in touch.
The website includes features to help website visitors stay up-to-date with news and information. Members of the community can sign-up for automatic email alerts, and will be informed every time new information is loaded on to the site.
Communities can find out lots of information about the project, including maps, information about work due to take place and, as the project develops, about skills training and job opportunities with the nationally-significant energy infrastructure project. It also includes the latest community newsletters, key project and construction dates, and will include information about future community events and initiatives that the project is taking part in or attending.
As a significant UK investment, Triton Knoll is keen to maximise its economic potential locally, and so at the heart of the website is a Supplier Database, where companies hoping to work with the project can register their interest. From registration, businesses will be kept up to speed with supply chain news via a regular newsletter and their details shared within the project and its contactors when opportunities arise.
Finally, the website will be a central resource for information around skills development and job opportunities. The project is already launching various initiatives with schools and colleges across the east coast, Greater Lincolnshire and Humber regions, and will share news on each of these via its website.
Triton Knoll Offshore Wind Farm would be located approximately 32km off the Lincolnshire coast and 50km off the coast of North Norfolk. It represents a significant UK supply chain opportunity, while at the same time aiming to help build a highly skilled, competitive local labour force by supporting new skills and learning opportunities in the Humber, Greater Lincolnshire and east coast regions.
The wind farm is being developed as a joint venture between Innogy Renewables UK Ltd(1) (innogy) (50%) and Statkraft (50%), with innogy managing the project on behalf of the partnership. With an installed capacity of up to 900MW, the wind farm would have the potential to power up to 800,000(2) UK homes once fully operational.
Find out more, and visit Triton Knoll at: www.tritonknoll.co.uk
Ends
Contact
Mark Fleming – Triton Knoll Communications Manager
M: 07825 608096
Editor's notes
(1) Energy generation
Energy predicted to be generated by the Triton Knoll proposal is derived using long term wind speeds calculated by meteorological models seeded with historical weather data obtained from satellite, surface-based and airborne measurement systems. The energy capture predicted and hence derived homes equivalent or emissions savings figures may change as further data are gathered. Equivalent homes supplied is based on an annual electricity consumption per home of 4500 kWh. This figure is supported by recent domestic electricity consumption data available from The Digest of UK Energy Statistics and household estimates and projections from the UK Statistics Authority.)
(2) Partnership
About innogy SE
innogy SE is the new subsidiary of RWE AG. With its three business segments Grid & Infrastructure, Retail and Renewables, it addresses the requirements of a modern, decarbonised, decentralised and digital energy world. In Renewables we plan, build and operate plants to generate power and extract energy from renewable sources. We aim to rapidly expand renewables in Europe, both on our own and with partners. Further information about innogy visit: www.innogy.com
About Statkraft
Statkraft is a leading company in hydropower internationally and Europe's largest generator of renewable energy. The Group produces hydropower, wind power, gas power and district heating and is a global player in energy market operations. Statkraft has 4200 employees in more than 20 countries. Since 2006, Statkraft has invested £1.4 billion in the UK's renewable energy infrastructure and provided 2.5 GW of renewable energy Power Purchase Agreements (PPA's). For further information about Statkraft visit www.statkraft.com