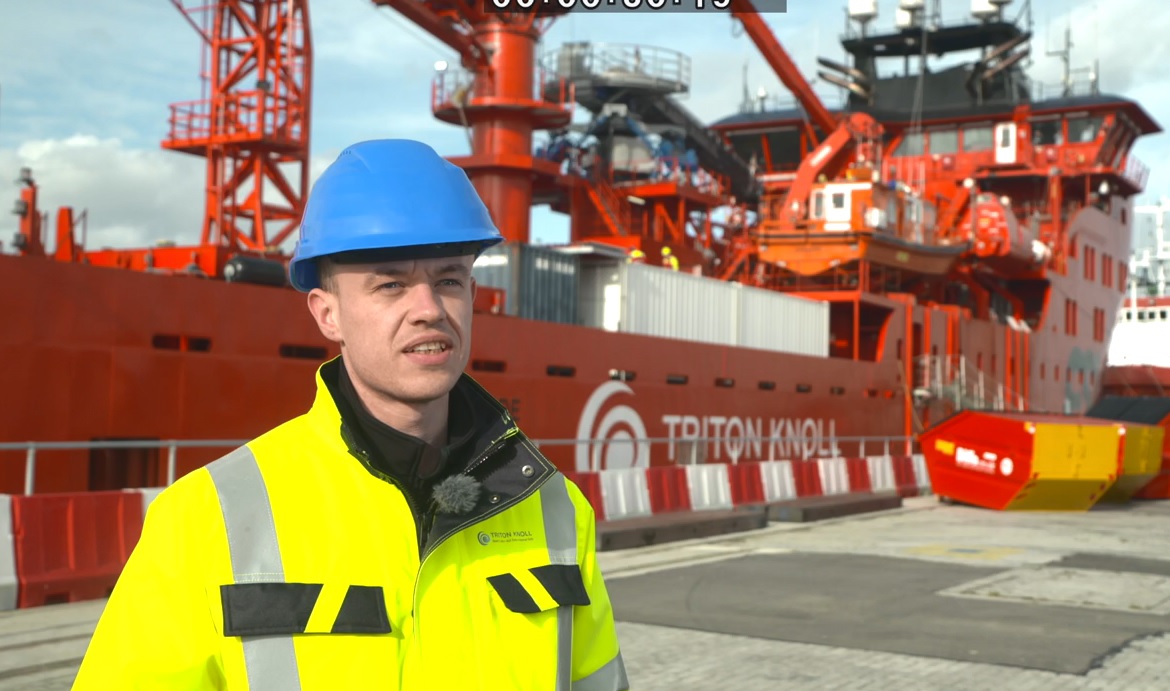 What is your role on Triton Knoll?
I'm a new recruit to the renewables sector and have joined Triton Knoll Offshore Wind Farm as a Service Operations Vessel (SOV) wind turbine technician. Once I've finished my training, I will take on the role in full, and will work offshore to help maintain the project's 90 giant wind turbines offshore.
What did you study in school?
IT, technology, geography and PE – I wasn't very academic in school but I was quite practical, so any kind of technology subjects I was good at. I knew I had to get the grades to get to the place where I am now.
How did you get started in your career?
We had a careers day and a number of local engineering companies came in to talk to us about apprenticeships, and so on and I thought going down the apprenticeship route would be great for me.
As soon as I left school I got into engineering and started with a company in Stallingborough, near where I live. I gave it a go and started earning money as soon as I left school as a qualified electrical engineer, before looking to transfer my skills into the renewables sector.
Why transfer to offshore wind and renewables?
I'm born and bred in Grimsby, and I think what Triton Knoll and the renewables sector is doing in the Grimsby area is great.
Offshore wind presents good opportunities for the future and I've wanted to get involved for many years, ever since our school careers advisors came to talk to us. I always knew I needed to get into engineering if I was to stand a chance, and so I trained as an apprentice electrical engineer.
A high skilled job like this, right on my doorstep is fantastic – it's so accessible for me, and its long term. So long as I can keep climbing ladders I don't expect I'll have any issues, and I hope I can stay in this job for as long as the wind farm operates – and that's so important for my job security.
What's it like working offshore?
This will be my first time offshore and so I am bit apprehensive. I used to work a day shift Monday to Friday, and now I'm going to be working on a vessel out at sea, doing a two-weeks-on two-weeks-off shift rota. I'll be away from home, away from my girlfriend, so it's going to be very different, but then that's something you have to get used to.
What will your typical day be like?
On a day to day basis I will be servicing and maintaining the wind turbines; I'll be working anywhere on the turbine from the transition piece at the bottom, the turbine tower, nacelle and hub helping to maintain the turbines.
Typically, I'll be living on the SOV for two weeks doing 12 hr shifts, but with two weeks off to go home. To be honest I'm excited, and really looking forward to it – the facilities on board are fantastic.
What qualifies you to work offshore?
I had no qualification to get me offshore, but the company has put me through all my Global Wind Organisation courses, so the likes of first aid courses, working at height courses, sea survival, advanced rescue.
But it's just about technical aspects, it also about being able to work as a team and looking after each other. At the end of the day you are the only ones working in that turbine 100 odd meters above sea level so you are pretty isolated and so need to be quite qualified in certain areas to do so.
What are you most looking forward to?
Just getting out there really, and the whole working at heights bit – I quite like rock climbing so working at heights will be my cup of tea.
Any advice?
Depends on where you want to be in the future. You've got to keep working hard, get those grades and try to decided what you want to do for the future as soon as you can, so you can take advantage of what's available.