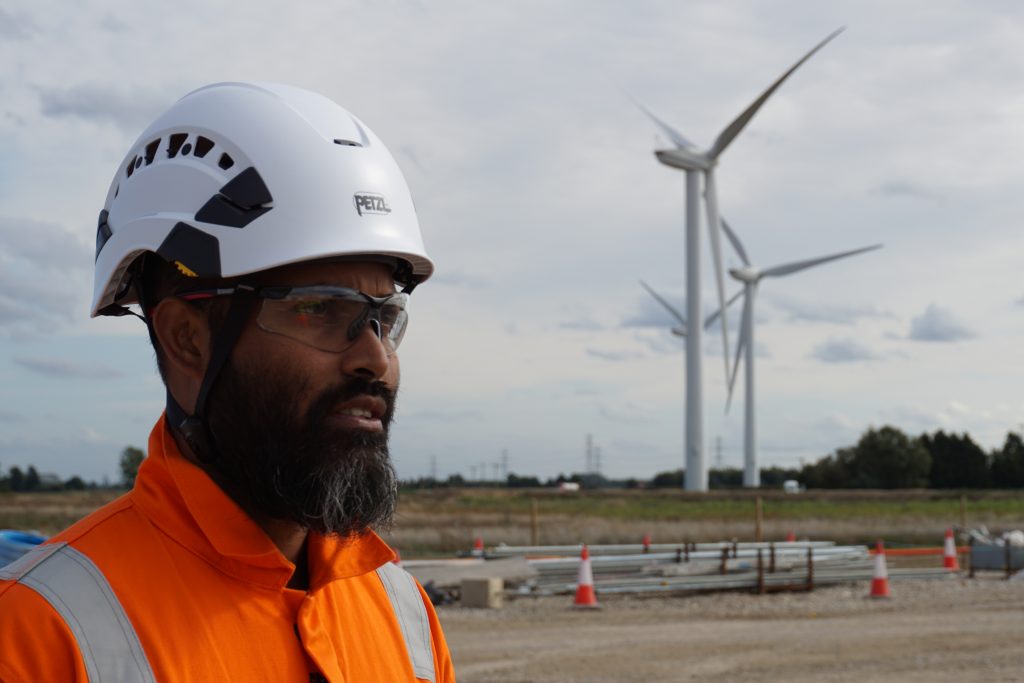 What is your current position?
I am working as a Lead Wind Turbine Generator (turbine) Engineer for the Triton Knoll offshore wind farm project. I am the expert who keeps the wind turbine manufacturer in check regarding their engineering solutions for the 90 machines that make up the project. I have been part of the team that secured our contract with the turbine supplier and am now making sure that everything is being delivered to the expected technical standards.
What's your typical working day like as a Lead Wind Turbine Generator Engineer?
A main part is conducting design reviews and technical due diligence, reviewing technical documents, and aligning with interface engineers and document reviews to make sure the Wind Turbine is aligned with the Construction Design and Management obligations and with the contract. Another crucial task is tracking the progress of Wind Turbine design that is being completed by the manufacturer.
I am the first point of contact for anyone working within the project when it comes to Wind Turbine technical expertise for the Triton Knoll.
What studies have been most important in getting you into this post?
As an engineer I have built my knowledge up from the grounding that mathematics, physics and other science subjects furnished me with at school and University.
How did you get here? Describe your career pathway in a nutshell:
I have taken a pathway around the world and via other sectors to get me into my post at Triton Knoll.
I was born and raised in Sri Lanka, and after finishing my A/Level equivalents in Sri Lanka I started off working life with some web design related part time jobs. I saved up and decided to move to the UK to study when I was 22. Following my passion for engineering I felt like I could be most innovative by going into electrical/electronic engineering. So it was that I graduated from the University of Plymouth with a B.Sc (Hons). Electrical and Electronic Systems.
In my first year after graduation, I went through two different full-time jobs.  First as a Data Analyst/ Hierarchy Builder to computerise the signalling assets on the London Underground network; manipulating collected assets' data and converting it to a usable format as part of the  London Underground improvements project for the Olympics 2012. After that I edged into the power sector – working for a switch gear manufacturer in West Midlands as a product development engineer in partnership with the University of Wolverhampton as part of Knowledge Transfer Partnerships program. Here I developed an Automatic Transfer Switch for buildings.
During the financial crisis in 2008, I was made redundant and was forced to return to Sri Lanka. This spurred me into continuing my studies and to pursuing a Masters in Engineering in Automation at the Cologne University of Applied Science in Germany. This was my launch pad into wind – starting work at the medium-sized wind turbine development company, where I wrote my Master thesis. I was taken on as a wind turbine development engineer and was involved in the development of a 3-MW, direct drive, 116-meter rotor diameter onshore wind turbine.
This initial role whet my appetite and I wanted to face new engineering challenges that the offshore environment imposes on the wind industry.  I looked for offshore wind job opportunities and when one of my old colleagues started working for innogy in onshore wind, he motivated me to apply for an opening for an offshore Wind Turbine Engineer at innogy in Hamburg. My first Offshore project was Nordsee One, where I worked as a SCADA engineer. Nordsee One project was commissioned in December 2017.  In April 2018 I took the opportunity to move within Innogy and join the Triton Knoll project. I moved to London to work as a Lead Wind Turbine Engineer.
What do you love about your job?
I enjoy the fantastic team spirit at Triton Knoll and being part of the development of one of the biggest offshore wind farms in the world. Also, I appreciate the support I get from my UK and Germany based colleagues. It is amazing to benefit from the strong international network and the diversity within the company and the Triton Knoll project team.
What would be your most important careers advice?
Be open and positive, look for new opportunities be a team player and be mindful of yourself and others!
As a good starting point for a technical career in renewables focus on science courses at school, specifically physics and maths. And finally, show interest and enthusiasm for the technology. Look out for internship and industry based research project opportunities during your time at university.