About Mollie
Mollie grew up in a small village in Grimsby, loves the outdoors, and always wanted to pursue a practical career. She left school after GCSEs to study and work in horse care management and, a few years later, decided to go travelling. She returned a year later, ready for a new career.
The application process – "a new challenge"
Having returned from travelling, Mollie decided to look for a new challenge. She saw an advertisement for RWE's Wind Turbine Technician apprenticeship on an online job site. She applied, and a few weeks later received an email inviting her to an open day at Grimsby Docks.
At the open day, Mollie had an interview, took part in a teamwork exercises and completed a multiple-choice test. Asked what made her apply, she said: "Offshore wind is a great industry to work in, with a lot going for it. I see this as a career for life. I love the idea of working offshore and that it's a practical job – I much prefer practical to theory."
Mollie's first year – "support when you need it"
The course involves two years studying at college, in Wales, which is followed by a year's hands-on experience at Triton Knoll. Mollie said: "The best part has been learning new practical skills, such as wiring, but I've also really enjoyed meeting the team, and the other trainees".
Mollie's biggest feelgood factor from the first year was getting her grades for assignments back and seeing that things were going really well. Due to the COVID-19 pandemic, the apprentices needed to study from home for some of the time, but, according to Mollie, RWE were really supportive – "There was always someone on the end of the phone to offer help, and they provided all the tools we needed to work and study from home."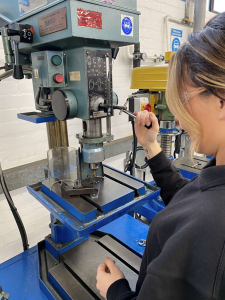 The only way is up
Mollie said that, during her apprenticeship, she was most looking forward to, "getting out to the turbines, getting experience and working offshore." Asked about the future, she added: "I'll be starting as a Wind Turbine technician, but I'm planning to work my way up to a supervisor role".
Looking to switch careers? Ask Mollie …
Having made the move from working onshore with animals to working offshore with machines, Mollie has some sound advice for anyone thinking of switching careers. "If you don't have the relevant work experience, look for other ways to show that you can do the job. I did a portfolio of practical things like changing the oil in a car, to demonstrate my abilities… If you set your mind to something just keep going at it."