An offshore substation platform transition piece leaves the construction hall at Smulders' Wallsend facility
-Work starts in Wallsend, Newcastle on the project's offshore substation foundations
-JGC complete works on Triton Knoll's offshore substation modules in Scotland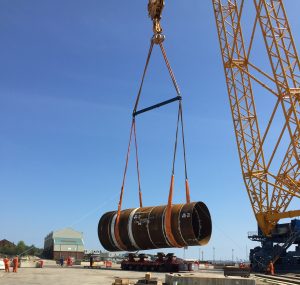 Key infrastructure for Triton Knoll's two offshore substations is being constructed in the North East and Scotland, as the state-of-the-art project continues to deliver on its commitment to invest in the UK supply chain.
Scottish manufacturer JGC, subcontracted to Manchester-based Siemens Transmission and Distribution, has completed the manufacture of several offshore container modules which will house critical electrical equipment for the project's offshore substations. The modules are purpose-built to cope with the rigours of the offshore environment and have now been successfully fitted onto the decks of each of the project's two offshore substations.
Offshore Substation foundation work has commenced at Smulders' port facility in Wallsend (Newcastle), which is highly experienced in the delivery of key contracts and components for the UK's expanding offshore wind infrastructure.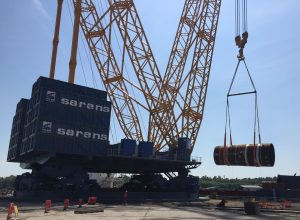 Both offshore substation platforms, and each of the wind farm's 90 offshore turbine foundations, will also be fitted with davit crane units designed and built by Granada Materials Handling, continuing the long-term involvement of the Manchester-based manufacturer with innogy's offshore wind farms.
Julian Garnsey, Project Director for Triton Knoll and innogy, said: "We are delighted to see the progress made with these critical components of the Triton Knoll project, and that UK manufacturing skills are contributing so significantly to a project, capable of generating renewable energy for the equivalent of over 800,000 homes."
Triton Knoll is an 857MW offshore wind farm, consisting of 90 turbines each capable of powering a typical home for 29 hours with just one turn, and is being constructed more than 30 miles off the Lincolnshire coast.
The project is owned by innogy, J-Power and Kansai Electric Power, with innogy managing the project's construction on behalf of the partnership, and responsible for its long-term maintenance and future operation.