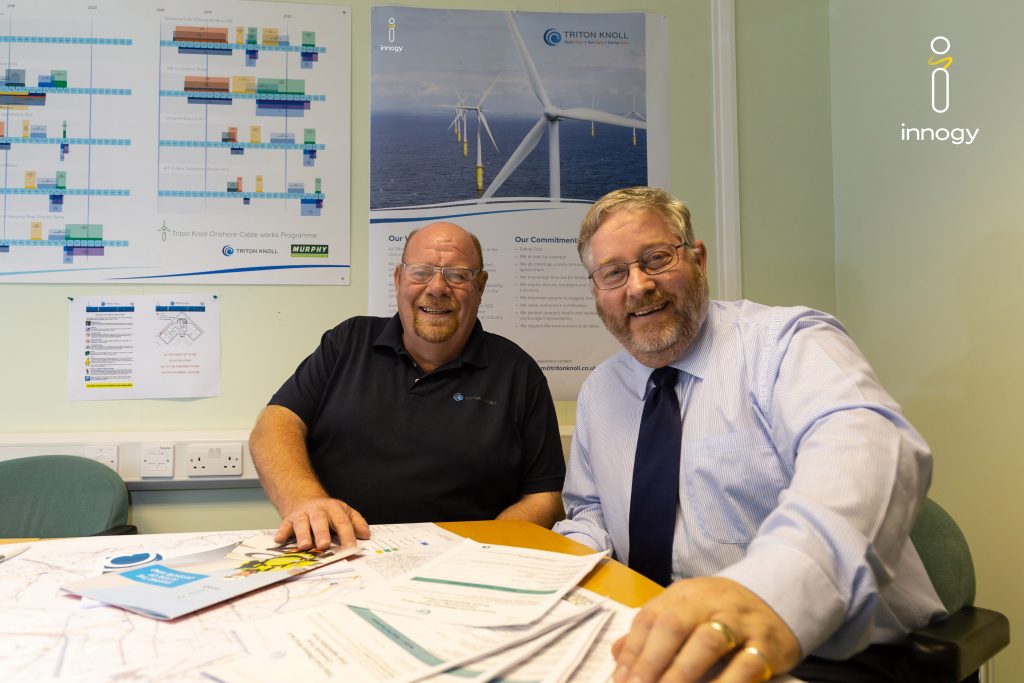 Application process kicks of today (20 Aug, 2018) with first awards due later this year
Initial £500,000 construction fund will support local communities during construction
Boston and Skegness MP Matt Warman urges communities to get involved.
innogy's Triton Knoll Offshore Wind Farm has officially launched its £1.5million two-part Community Fund (The Fund) with an initial £500,000 to support local community projects and priorities over the two years of onshore construction.
Once generating, the wind farm will then initiate a second fund, worth £40,000 a year, which will support projects and initiatives proposed by those communities which are closest to the new onshore substation and landfall sites.
The Fund will provide flexible and targeted new investment for local initiatives, with a very focused emphasis on the communities neighbouring the new onshore substation at Bicker Fen and the landfall site near Anderby Creek;  while the construction fund will also support those within 1km of the onshore cable route.
innogy's Triton Knoll Project Director Julian Garnsey, said: "I'm really pleased to see The Fund finally up and running, and am looking forward to seeing the first round of projects come into being. Funding like this can be hugely important to small local communities – it's really flexible and can be focused on the things that matter most to local people.
"Throughout our local consultation, it was clear that the funding should support those communities neighbouring the Triton Knoll onshore construction works, so that's exactly what we are delivering. By directly targeting this funding at our closest communities, we can provide greater benefits to local people, and so we look forward to receiving those first applications."
 Matt Warman MP said it was an important opportunity for nearby communities to seek to deliver important local projects.  He said: "This is targeted funding intended to support local areas directly, and has been designed to address the issues and needs raised by the communities themselves. It will be managed locally, and delivered locally, and so I would absolutely urge community groups to take the time to find out about the fund, look at what it can do, and get involved. It's a great opportunity and I'm looking forward to seeing the first projects come to fruition in the coming months."
 The structure of the fund, including its themes and areas of benefit were established following a second consultation with local people, which ended earlier this year. The Fund structure was then outlined to local communities during  Public Information Days run by the project team in Lincolnshire  during June.
Lincolnshire Community Foundation (LCF) has been appointed to administer the fund on behalf of local people, and will rely on its many years of experience operating across Lincolnshire to ensure the funding is delivered through an independent, simple, open and transparent process.
Lincolnshire Community Foundation CEO Sue Fortune said: "The Lincolnshire Community Foundation is delighted to have been invited to deliver this fund and is looking forward to supporting organisations interested in applying for a grant.  Staff will be available at every step of the process and we would encourage groups to contact us to discuss their project before applying.  The aim of the fund is to transform local communities and have a long lasting impact."
The LCF's first job will be to recruit a volunteer decision-making panel from among the communities closest to the new infrastructure, and is inviting applications from local people to join the panel and take a key role in making decisions on applications to the fund.
For more information about the project, please visit: www.tritonknoll.co.uk
Ends
 Media Contacts
Mark Fleming

Triton Knoll Communications Manager

M: 07825 608096

E: mark.fleming@tritonknoll.co.uk

 

Sue Fortune

Lincolnshire Community Foundation

T: 01529 305825
Editors notes
ABOUT THE FUND
There are two parts to the fund:
1 – A £500,000 One Off Construction Fund, directly supporting all communities within 5km of the new onshore substation; within 3km of the landfall, and within 1km of the onshore cable route. This will last for the duration of the onshore construction works, expected to be around two years. This fund is open for applications from now.
2 – A £40,000 Annual Fund which will be shared between communities within 3km of the landfall site near Anderby Creek,  and 5km of the new onshore substation location near Bicker Fen. The fund will be open for the operational lifetime of the wind farm, which is expected to be 25 years. This fund will open in line with the first generation of power from the windfarm, likely to be in 2021.
About Triton Knoll
Triton Knoll is located 32km off the Lincolnshire coast. It has a planned installed capacity of 860MW(1), capable of supplying the equivalent of over 800,000 UK households(1) per year, with renewable electricity. (1) Energy Generation: It is estimated that the average annual generation expected at the site could be equivalent to the approximate domestic needs of an expected minimum of 800,000 average UK households. Energy predicted to be generated by the proposal is derived using wind speeds monitored in the local area and correlated with long term reference data. The energy capture predicted and hence derived homes equivalent figure may change as further data are gathered. Equivalent homes supplied is based on an annual electricity consumption per home of 4100 kWh. This figure is supported by recent domestic electricity consumption data available from The Digest of UK Energy Statistics and household figures from the UK National Statistics Authority."
About innogy SE
innogy SE is a leading German energy company, with revenue of around €43 billion (2017), more than 42,000 employees and activities in 16 countries across Europe. With its three business segments Renewables, Grid & Infrastructure and Retail, innogy addresses the requirements of a modern, decarbonised, decentralised and digital energy world. Its activities focus on its
about 22 million customers, and on offering them innovative and sustainable products and services which enable them to use energy more efficiently and improve their quality of life. The key markets are Germany, the United Kingdom, the Netherlands and Belgium, as well as several countries in Central Eastern and South Eastern Europe, especially the Czech Republic, Hungary and Poland. In renewable power generation, the company is also active in other regions, e.g. Spain, Italy and the USA, with a total capacity of 3.9 gigawatts. As a leader of innovation in future-oriented fields like eMobility, we are represented in the international hot-spots of the technology industry such as Silicon Valley, Tel Aviv and Berlin. We combine the extensive expertise of our energy technicians and engineers with digital technology partners, from start-ups to major corporates.
Renewables
We plan, build and operate plants to generate power and extract energy from renewable sources. Part of our portfolio are wind and hydro power plants as well as solar and biomass plants. Currently, we are particularly strongly represented in our home market, Germany, followed by the United Kingdom, Spain, the Netherlands, Poland and Italy. Our aim is to expand renewables in Europe further, both on our own and working with partners. We believe that working together in this way is the key to making the energy transition a success. With an installed capacity of more than 925 megawatts in offshore wind and with over 2100 megawatts in onshore wind, innogy is one of the major operators in Europe. At the moment we are focusing on continuing to expand our activities in wind power. That's why, in addition to our core markets, we are already active in new markets such as the USA and Ireland. Another growth technology is the construction of utility-scale photovoltaic power plants – for example in Australia.