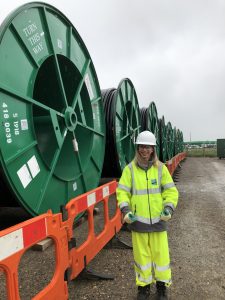 Meet Elin, a year 12 'A' level student, studying Geography, Biology and English, and who we welcomed to our project recently on work experience.
Elin spent a packed three days in Lincolnshire visiting our construction sites, meeting the team and finding out more about how we go about building an offshore wind farm.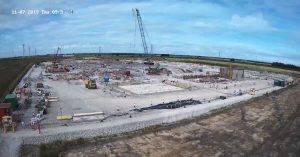 Elin visited various key locations along the cable route, experienced how we have been carrying out Horizontal Directional Drilling at our landfall site near Anderby Creek, and had a great opportunity to see how the Triton Knoll Onshore Substation is shaping up at Bicker, near Boston.
It was also a good time for Elin to learn more about our archaeology work, by helping with our public exhibition at Boston Guildhall. During her insightful time on the project, Elin also joined in the launch of our Drive Safe campaign (and then passed her driving test first time a few weeks later!), sat in on meetings and held in-depth discussions with members of the Triton Knoll team to learn about their roles.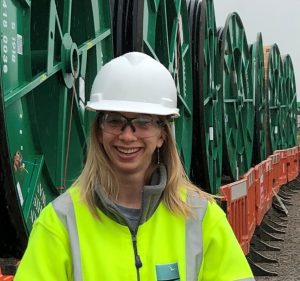 She later said of her experience: "I was really surprised by how big the project was and how complex it is to get all the separate parts constructed and working together – it was really impressive. Everyone I met was very knowledgeable and helpful, and I hadn't realised how many different types of jobs the construction of a wind farm could support. It was a real eye opener and has given me lots to think about going forward."
Fruzsina Kemenes, Stakeholder Manager – supply chain and skills for Triton Knoll, added: "Work experience opportunities like this provide unique and positive insights for students into how the subjects they are learning at school can translate into real life activity in the working environment. The offshore sector is an exciting growth industry, and we're really committed to helping encourage more students to find out more about what we do and how they can become a part of that."