The Triton Knoll project represents an important opportunity for both the local area and the wider region, and we are keen to ensure that our investments can help provide valuable and lasting support for local communities.
As part of this, we have set up the Triton Knoll Community Fund, which will help deliver locally identified and important projects and initiatives.
The Triton Knoll Community Fund
The Triton Knoll Community Fund is made up of the following:
£500,000 One Off Construction Fund allocated to local communities during the onshore construction works over a two year period (four funding rounds)
A further £40,000 annually into areas neighbouring the onshore, above ground electrical infrastructure (onshore substation) and the landfall location, during the operational life-time of the wind farm. The annual fund will become available at first generation from the offshore wind farm, currently expected to take place during 2021.

Consultation Feedback and Final Funding Mechanism
Following feedback we  received during consultations undertaken over a number of years, we were able to confirm the final mechanisms of the Triton Knoll Community Fund. We listened carefully to local feedback and as a result made a number of changes to the structure of the funds. They included:
The inclusion of communities neighbouring the landfall location in the annual fund eligibility area.
An increase to the maximum funding that can be applied for with regards to the one off construction fund from £10,000 to £50,000.
The organisations able to apply for funding to ensure that all grants are received exclusively by the local communities neighbouring our onshore works.
The organisation responsible for managing and administering the funds.
The infographics below provide more detail on the mechanisms for both funds and how they will operate.
Latest Awards
Round 4 Awards - now open
Round 4 is the final bidding and allocation phase of the One Off Construction Fund, which was set up to operate during the period of onshore construction works.
The fund is now open for bids, and closes on 1 May 2020. Decisions on the final successful bidders will be made after that date.
Round 3 Awards - closed to new applications
The deadline for Round 3 applications has passed. The locally elected decision-making panel is due to meet to determine the latest successful bidders on Wednesday 4 December, 2019.
Round 2 Awards - £126,559.32 to 13 projects
Round 2 Awards - In June 2019, 13 local projects shared £126,559.32, thanks to Round 2 grants made by the Triton Knoll Community Fund.
Meet some of the winners and read all about the Round 2 awards.
Full list of Round 2 winners:
Bicker Parish Council £6,869.55
Bicker Village Hall £30,000.00
Flinders Founders, Donington £12,788.40
Northlands Village Hall £9,974.00
Anderby Parish Council £6,876.00
Sibsey Lancaster Memorial Trust £4,071.00
National Coastwatch Inst £3,231.20
Donington Summer Fest £3,443.61
Helpringham Memorial Hall £5,489.58
St Swithuns PCC, Bicker £10,830.00
Huttoft Village Hall £5,000.00
Swineshead Bowling Club £15,000.00
Swineshead Silver Band £10,000.00
Round 1 Awards - £114,500 to 12 projects
Round 1 Awards - In January 2019, 12 local projects at the heart of their communities shared a £114,500 windfall, thanks to the first ever grants made by the Triton Knoll Community Fund.
Meet some of the winners and read more about the Round 1 awards.
Full list of round 1 winners:
Improving Donington's Environment for All (IDEA) £5,940.00
LIVES (Lincolnshire Integrated Voluntary Emergency Service) £15,000.00
Anderby Village Hall £2,081.22
Hogsthorpe Parish Council £4,310.00
Swineshead Village Hall £10,000.00
Great Hale Newsletter £1,200.00
Hogsthorpe Memorial Recreation & PFA £19,755.00
Anderby Rocks £6,596.49
Brothertoft Village Hall £10,000.00
7th Boston (Swineshead) Scout Group £6,317.95
Parochial Church Council of St Mary's at Swineshead £30,000.00
Swineshead Bowls Club Storage container for equipment £3,300.00.
Help and advice
If your project is interested in applying for funding, you are encouraged to contact Sue Fortune at Lincolnshire Community Foundation (sue.lincolnshire@btconnect.com / Telephone: 01529 305825) for help and advice prior to making an application.
You can find a brief overview of how the fund works if you click here.
Otherwise, for more detailed information please visit the Lincolnshire Community Foundation website.
Triton Knoll Community Fund launched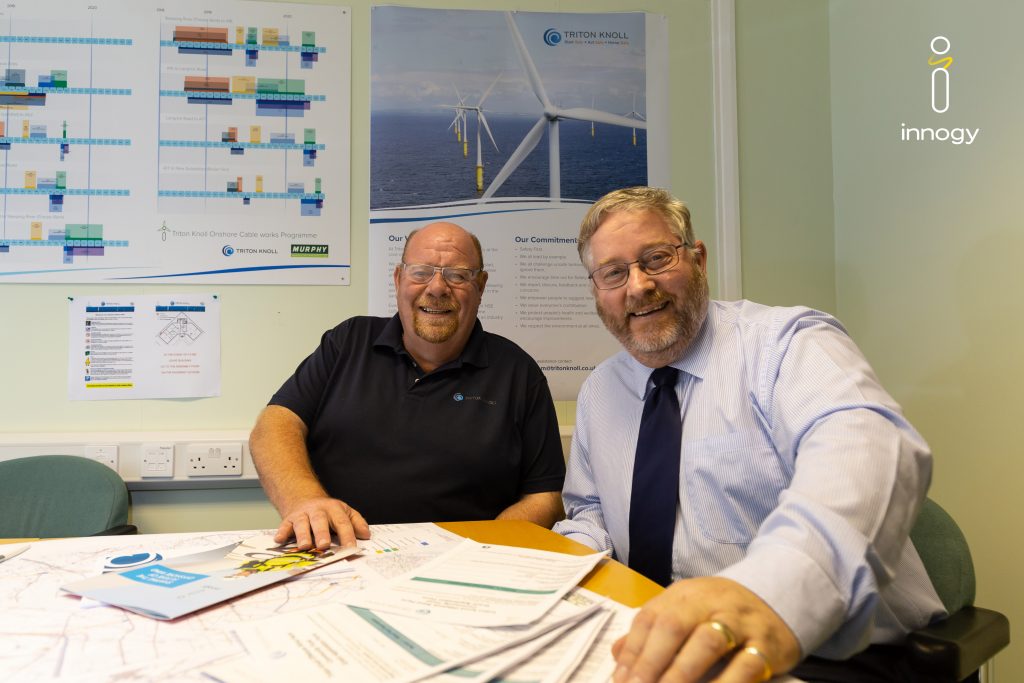 The Triton Knoll Offshore Wind Farm Community Fund officially opened on 20 August 2018 (Click here to read the full story.)
For detailed information, please visit the Lincolnshire Community Foundation website.