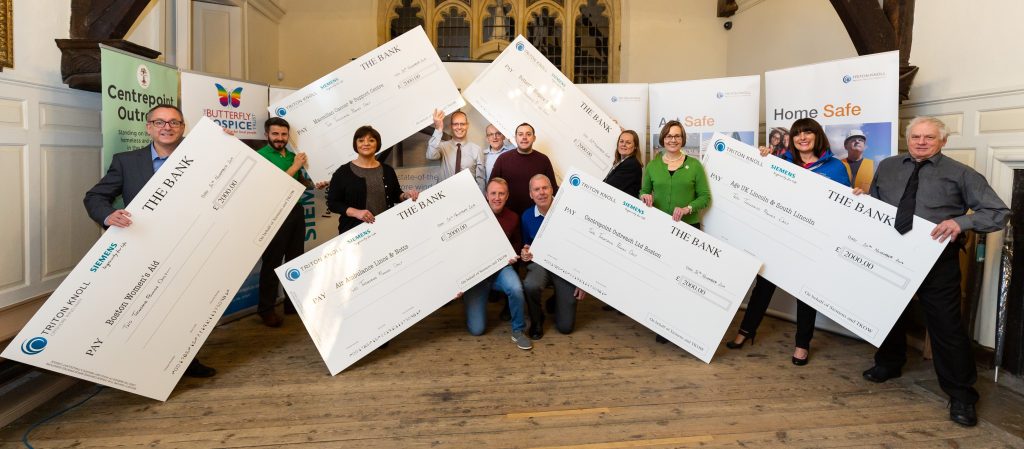 Seven charities from Lincolnshire have each received a £1,300 donation from the Siemens and Triton Knoll Offshore Windfarm project safety charity fund.
Each of the local good causes were nominated by the site team working at the onshore substation site near Bicker, Boston, and chosen because of their proximity to the construction project.
The donations are part of an initiative which promotes and rewards excellence in health and safety among staff and contractors working at the onshore substation construction site.
Jacob Hain, Substations Package Manager for Triton Knoll, said: "I'm delighted that our actions to stay safe on site not only protect the welfare of our team but will also make some difference to the charities that serve the communities in which we are also a part.
"We encourage our teams to live and breathe health and safety in order to achieve the very high standards we expect from both our staff and contractors alike. At its height, there are over 150 people working on the substation site alone, and our aspiration is to make sure every single person starts safe, acts safe and ultimately goes home safe at the end of the day."
In November 2019, Siemens and Triton Knoll donated a total fund of £12,000 to local charities. Since then, both organisations have continued to make regular contributions to the charity pot, based on achieving important safety performance targets at the onshore substation. Thanks to the dedication of the project's safety-focused teams, the additional £9,000 has now been donated to these important community projects, making a grand total of £21,000.
The timing of the award of the donations was brought forward in order to help the local charities, many of which have been under financial pressure because of the Covid-19 crisis.
The charities which each received £1,300 are:
Age UK Lincoln and South Lincolnshire
Lincs and Notts Air Ambulance
Boston Women's Aid
Butterfly Hospice Trust Boston
Centrepoint Outreach Ltd Boston
Macmillan Cancer & Support Centre
Boston Foodbank (part of the Trussell Trust)
Phil Manley, Triton Knoll Project Director, Siemens Energy Ltd, said: "We are delighted to have been able to support these important local charities and the work they do through meeting high standards of health and safety on our sites. Donations like these are vital to keeping local services running."
The donation pot is continuing to operate until the end of the year.
The 857MW Triton Knoll Offshore Wind Farm will consist of 90 MHI Vestas turbines, each with a maximum installed capacity of 9.5MW. Once fully operational, it will be capable of generating enough renewable energy for the equivalent of over 800,000 typical UK households.(1) The project is owned by innogy, J-Power and Kansai Electric Power, with innogy managing the construction as well as the long-term operation and maintenance works on behalf of its project partners.