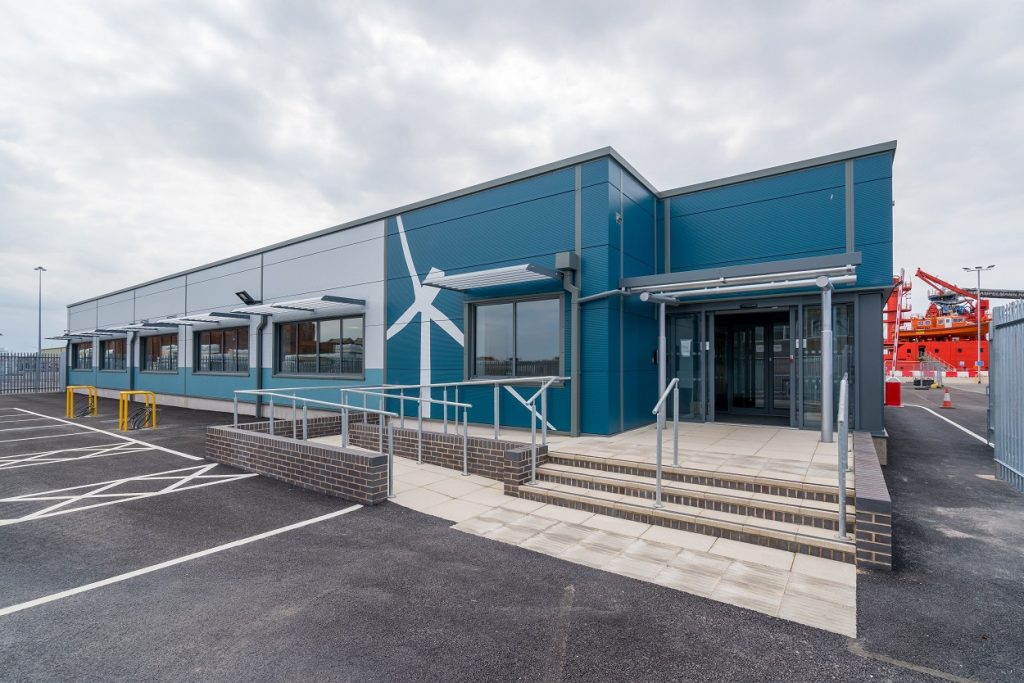 Construction of a new multi-million pound operations base for Triton Knoll is now complete after national contractor Tolent handed over the project this week.
Once fully fitted out, the operations and maintenance facility will become the long term regional home for a team of skilled technicians and support staff, responsible for maintaining the offshore wind farm for the next 25 years.
Built across almost four acres of prime port location, the project has created a new open plan office space, complete with a control room, meeting rooms, canteen and gym space with associated showers and locker rooms, as well as a new warehouse facility that includes a HAZMAT store, workshop area and storage facilities.
A new radio mast has been installed to enable communications with the project's offshore operations teams, as well as a temporary modular building that is already accommodating the construction team during the current phase of works to build the wind farm.
John Currie, regional director for Tolent, said: "We are extremely proud of our teams who have persevered through recent challenging times to ensure this project could be delivered ahead of time for our client.
"Our work across the industrial and commercial sectors has seen us deliver award-winning projects across a variety of sub-sectors including warehouse and distribution, manufacturing, energy, waste and offshore. This will be a fantastic addition to our ever-growing portfolio."
Final fit-out works are still to be completed, in order to accommodate a team of people from Triton Knoll, innogy, which is responsible for maintaining the wind farm long term, and the project's lead wind turbine contractor MHI Vestas.
A number of new, locally based jobs have already been created which will operate out of the new facility, including four wind turbine apprenticeship positions.
Julian Garnsey, project director for Triton Knoll and innogy, said: "It's a great new facility, a great job by Tolent, and represents the start of another exciting phase for Triton Knoll.
"With the construction work now complete, we can now look forward to welcoming the team formally into a brand new, purpose-built and dedicated facility that will sit at the heart of our future operations.
"This building gives us a great facility from which to strengthen our long term presence in Grimsby, where we are already preparing to receive our first new apprentices later this year, and are recruiting a new and predominantly local team to support the project."
ENDS
For Triton Knoll media enquiries, please contact Mark Fleming at mark.fleming@innogy.com
To find out more about Tolent visit www.tolent.co.uk
For Tolent-related media enquires please contact Jennifer Scullion at jscullion@tolent.co.uk