Key works to connect Triton Knoll's onshore and offshore electrical circuits are due to start at the end of this month at the project's landfall location, north of Anderby Creek.
The works will involve the use of a technique called Horizontal Directional Drilling (HDD), and will install two 900 metre long ducting tunnels beneath the beach and sand dunes, avoiding the sea-defences, ready for the installation of high voltage electrical cable next year.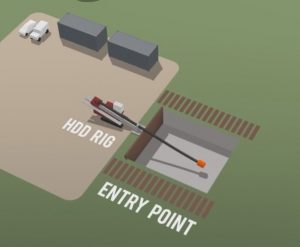 In order to ensure local people are informed of the works and their likely impacts, Triton Knoll  recently arranged a Community Drop-in Session to provide further information.
Contractor Boskalis & NKT has been appointed to install the two landfall export cable ducts and two offshore High Voltage Export Cables and they, in turn, will assign the drilling to a subcontractor to carry out the HDD works.
Members of the project team, including technical experts from Boskalis, were on hand to answer any questions and address any concerns, and will be addressing everything from hours of working to noise mitigation. The landfall works are being coordinated with the Environment Agency's annual beach replenishment programme.
Work is expected to start at the end of March 2019, with the HDD works expected to be complete by the end of June 2019.
There will be a 24 hour contact available on site throughout these works, who will be able to assist in the unlikely event that there is an emergency on site or to manage any issues which require immediate resolution. All general queries can be reported to us in the usual way, by calling 0800 2545 270 or by emailing info@tritonknoll.co.uk