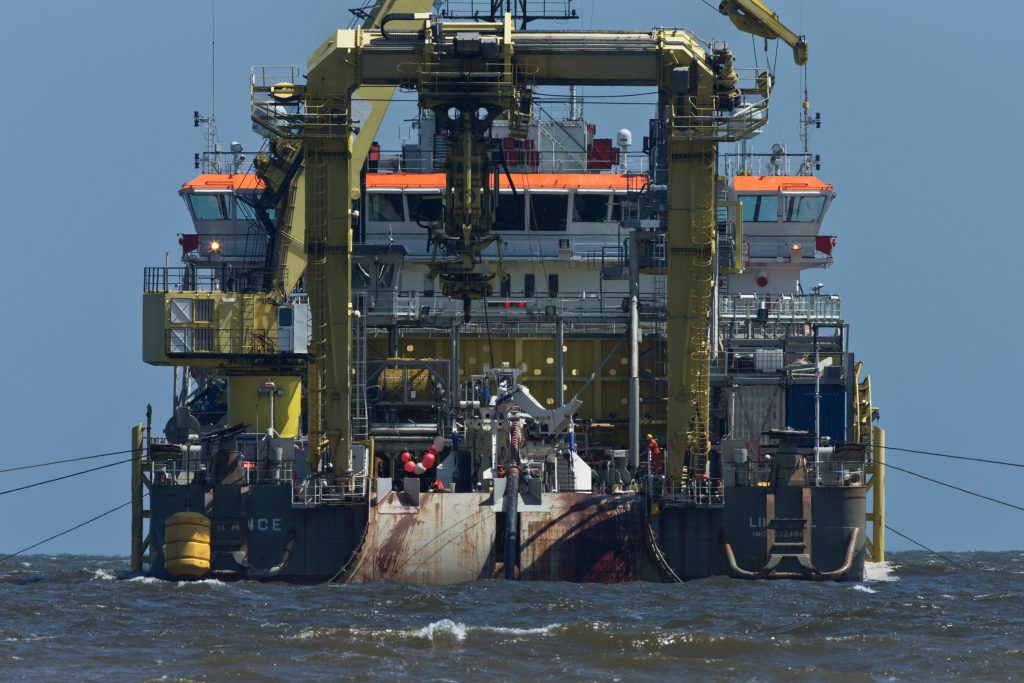 First 25km of offshore export cable now installed from Lincolnshire landfall
Construction remains on track for first power export in 2021.
DISCOVER MORE about our offshore export cables in our latest project film
Triton Knoll offshore wind farm has marked a significant step in the construction of its state-of-the-art electrical system, ahead of anticipated first power generation in 2021.
The project has successfully installed the first 25km length of subsea offshore export cable from its landfall connection at Anderby Creek, establishing a first point of contact between the onshore and offshore infrastructures.
It's an important step in the delivery of this nationally significant energy infrastructure project which, when fully operational, will be capable of generating wind powered electricity equal to the needs of over 800,000 UK homes, or  all the homes in Lincoln, Nottingham, Sheffield and Leeds combined.
Contractor Boskalis, in a consortium with NKT, is continuing with cable installation throughout the summer in order to complete the full offshore circuit of two lengths of 3-core export cable, linking the two offshore substation platforms to the onshore electrical network. Once complete, each circuit will be capable of transmitting the high voltage electricity generated by the wind farm's 90 turbines back to the shore 50km away, and ultimately into UK homes and businesses.
Julian Garnsey, Triton Knoll and innogy project director, said: "This is a very welcome achievement for all those on the project who have worked tirelessly to help us stay on track, despite some serious challenges, not least of all the impacts of Covid19."
"It's great to see the onshore and offshore assets coming together now, and its thanks to our teams and contractors that Triton Knoll is becoming an increasingly physical presence offshore. It's also a big thank you to the local community that has worked with us throughout the construction works to date.
 "In less than a year's time, Triton Knoll expects to generate our first electricity, and will become a hugely important asset supporting the UK's drive to make low carbon electricity the backbone of its energy industry."
The offshore export cables are just one part of the wider offshore electrical system, and connect into two Offshore Substation Platforms, which have both now been installed over 50kms off the coast of Lincolnshire. Inter array cabling, which links the turbines to the offshore substation, will follow during the summer, ahead of turbine installation in early 2021.
Triton Knoll is a state-of-the-art, 857MW offshore wind farm, consisting of 90 of the world's most powerful turbines, and representing a significant investment in new UK energy infrastructure. Located 32km off the Lincolnshire coast, Triton Knoll is the largest offshore wind farm currently in construction by innogy and, once fully operational, will be capable of generating renewable energy equivalent to the needs of over 800,000 typical UK households(2).
Media Contact
(1) Triton Knoll Offshore Wind Farm is owned by innogy (59%), J-Power (25%) and Kansai Electric Power (16%), with innogy managing the construction as well as the long term operation and maintenance works, on behalf of its project partners.
(2) Energy Generation – It is estimated that the average annual generation expected at the site could be equivalent to the approximate domestic needs of an expected minimum of 800,000 average UK households. Energy predicted to be generated by the proposal is derived using wind speeds monitored in the local area and correlated with long term reference data. The energy capture predicted, and hence derived homes equivalent figure may change as further data are gathered. Equivalent homes supplied is based on an annual electricity consumption per home of 4100 kWh. This figure is supported by recent domestic electricity consumption data available from The Digest of UK Energy Statistics and household figures from the UK National Statistics Authority.