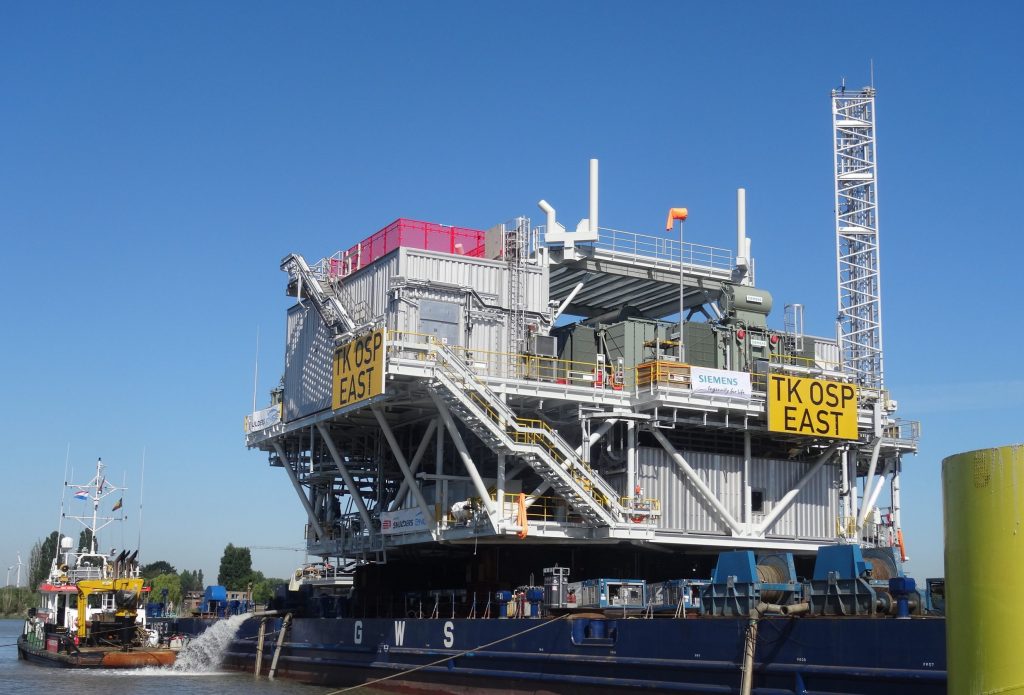 Second Triton Knoll Offshore Substation Platform successfully installed
Critical component of the transmission infrastructure in place
A key stage in the construction of Triton Knoll's offshore electrical infrastructure was completed today, with the installation of the second offshore substation platform.
The installation of Offshore Substation Platform (OSP) East, the last of the project's two OSPs, was safely and successful installed by Seaway Strashnov overnight on Monday 15 June, and marks a significant milestone in the project's progress towards first power generation next year.
Together with OSP West, which was installed in April, the offshore substation will transmit low-carbon electricity generated from the project's 90 wind-powered turbines, all the way to shore along the 50km long sub-sea export cables. The first phase of commissioning of OSP West is almost complete, and will be repeated on OSP East over the next few weeks.
Julian Garnsey Project Director for Triton Knoll and innogy said: "This is an important step in ensuring we remain on track, ready for turbine installation and export of first power early next year.
 "Amid the challenges of the current climate, the safe completion of these installations is a great achievement, and testament to the teams of contractors and project personnel who have helped make this happen."
 Triton Knoll consists of two 1,200 tonne offshore substation platforms, using the Siemens Energy Offshore Transformer Module© technology.
Mark Pilling, Managing Director, Transmission Solutions, Siemens Energy Ltd, said: "Installation of both OSPs is a significant milestone in this project. Now this has been completed we can begin commissioning work to get the wind farm ready to connect to the grid to provide the clean, green renewable power needed to reach net zero."
Once fully operational, the two OSPs, East and West, will each receive electricity generated by the wind farm's powerful 90 x MHI Vestas v164-9.5 MW turbines, before converting it for transmission to the landfall connection via two huge export cables. An initial 25km stretch of export cable has already been installed from the land fall north of Anderby Creek in Lincolnshire, establishing a connection between the onshore and offshore electrical infrastructure for the first time.
Once finished, Triton Knoll will become an important new renewable energy power source for the UK, capable of generating low carbon, sustainable energy equivalent to the demands of over 800,000 homes, and the needs of over 2million UK residents. It will make a significant contribution to the decarbonsation of the UK's future energy supply.
Media Contact
(1) Triton Knoll Offshore Wind Farm is owned by innogy (59%), J-Power (25%) and Kansai Electric Power (16%), with innogy managing the construction as well as the long term operation and maintenance works, on behalf of its project partners.
(2) Energy Generation – It is estimated that the average annual generation expected at the site could be equivalent to the approximate domestic needs of an expected minimum of 800,000 average UK households. Energy predicted to be generated by the proposal is derived using wind speeds monitored in the local area and correlated with long term reference data. The energy capture predicted, and hence derived homes equivalent figure may change as further data are gathered. Equivalent homes supplied is based on an annual electricity consumption per home of 4100 kWh. This figure is supported by recent domestic electricity consumption data available from The Digest of UK Energy Statistics and household figures from the UK National Statistics Authority.